Benzema's lawyer says full recording clears his client of blackmail
Comments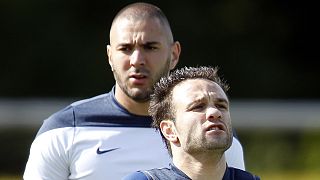 The alleged sex-tape blackmail case of French international Mathieu Valbuena continues to dominate the front and back pages in France and beyond. His friend and fellow international Karim Benzema has been charged with complicity but claims he's innocent.
I discovered that the investigators based their conclusions on only a fragment of a telephone conversation where another conversation, between Benzema and Valbuena on October 5th, was related.
With judges set to hear the case this week, euronews spoke to the Real Madrid striker's lawyer, Sylvain Cormier, about what he expects to happen.
"First of all, I would have liked things to be… You said yourself, Benzema has the same rights as everybody. But if his rights were respected, the prosecutors would have started by questioning the victim to get his side of the story. And then – and only then – somebody should be charged. But here, everything was done backwards. First, they charged my client and now the investigators are praying that Valbuena supports their version of events," said Cormier.
Fabien Farge, euronews: "So, there are two sides to the story – yours is that Benzema actually tried to help Valbuena and told him not to pay. Could you elaborate on that?"
SC: "I discovered that the investigators based their conclusions on only a fragment of a telephone conversation where another conversation, between Benzema and Valbuena on October 5th, was related. Some of the elements heard in this recorded conversation were interpreted unfavourably against my client. But, in fact, they've hid from me the end of the conversation where Benzema explained that on October 5th he told Valbuena not to pay: 'Don't worry about the scandal. Just tell your family and let them publish this thing (the alleged sex-tape)'"