Sharm al-Sheikh rescue flights 'limited by airport capacity' says Egypt
Comments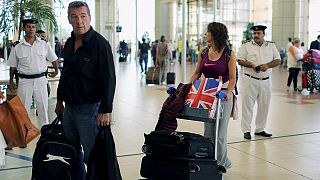 Egypt says it is not blocking planes sent to rescue stranded tourists from Sharm al-Sheikh. The country's civil aviation ministry said the number of flights was limited by airport capacity.
Airline easyJet earlier said Egyptian authorities had suspended UK airlines from flying into the Egyptian resort.
Two easyJet flights have departed for UK airports London Gatwick and Luton, according to a statement posted on its website.
Many other flights planned to repatriate British tourists from Sharm al-Sheikh were not expected to fly today (November 6).
British prime minister David Cameron on Wednesday said his government had suspended flights to and from Sharm because of security concerns, but flights were scheduled to restart today after extra measures were put in place.
Some British 20,000 tourists are stranded in the resort city after Metrojet Flight 9268 bound for Saint Petersburg crashed shortly after taking off from Sharm el-Sheikh last weekend (October 31). All 224 people on board were killed.
easyjet</a> are pleased to confirm that EZY9854 to London Gatwick has departed from Sharm El Sheikh with 180 passengers on board.</p>&mdash; easyJet (easyJet) November 6, 2015