Sharm el-Sheikh airport security met international standards, says Egyptian expert
Comments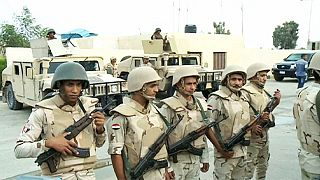 An Egyptian security expert has defended security at Sharm el-Sheikh airport amid an exodus of European carriers.
British, German and French airlines have all cut routes to the resort, threatening a tourism industry more valuable to the Egyptian economy than oil.
However, former Egyptian intelligence officer Mahmoud Zaher says that the moves are misguided.
"We satisfied the international delegations from Russia, Britain, France, Canada, Germany and other countries who followed the investigation from the beginning, and who saw all the pictures and documents that we have at the airport for the passengers, bags, and for the plane.
"There were concerns regarding external safety before take-off and not internal safety standards relating to the airline. There was no security glitch and all this the evidence we have registered, specifically applying the highest standards.
"Sheikh el-Sheikh has a basis point I would like to mention : international security standards, These delegations saw and tested them and we can now disclose this news for the first time," he added.
The situation in the region is complex and Cairo is following a delicate path to protect its interests, he says.
"There is international conflict between the United States of America and Russia, and we have to take into consideration the relationship between Egypt and Saudi Arabia as well as Egyptian-Russian relations, How does this fit with the conspiracy to hit tourism in Egypt and supporting terrorist groups in one way or another?"
Euronews' correspondent Mohammed Shaikhibrahim says that there are already signs of tightening security, despite the insistence by the authorities that they have no evidence of terrorist involvement.
"The developments of Egypt's position after the British and US statements will be visible here on the ground by tightened security at Egyptian airports, but Egyptian authorities confirm that this tightening is no indication that terrorism caused the crash. The end judgment will be left to the results of the investigations."