Cameron and Al-Sisi talk tourism in Downing Street discussions
Comments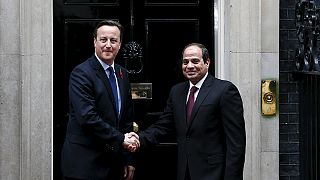 The Sinai plane crash appears to have dominated controversial talks between British Prime Minister David Cameron and Egyptian President Abdel Fattah al-Sisi.
Speaking following the Downing Street discussions, the leaders focussed largely on tourism:
"I fully understand the importance of being aware that this accident could put in peril the return home of British citizens in Egypt," said Al-Sisi.
David Cameron added:
"We had some excellent discussions today, not only about what Egypt has done in the past to increase its own security and security of tourists, but also about the further steps that can be taken today, to help to make sure that British citizens can return home after their holidays in Sharm."
It was Al-Sisi's first UK visit since he led a 2013 military coup to overthrow democratically-elected Mohamed Mursi, leader of the Muslim Brotherhood. The president is accused of crushing all opposition in Egypt, but maintains some support in Britain.
A stone's throw from Number 10, demonstrations for and against Al-Sisi went on throughout the day.
Some 200 opponents of Al-Sisi's visit were outnumbered by around 300 supporters.
News : Egyptian crowd to support the President Al-Sisi in London. pic.twitter.com/OrbRRxo5Pm

— Sa'ka (@BTelawy) November 5, 2015
"I think he is the saviour of our country, from the Muslim Brotherhood, which was very bad," said one Al-Sisi supporter. "Al-Sisi came and got rid of them."
However, another woman, who was against the president's visit, pointed to his human rights record:
"This is a democratic country. It can't accept someone who killed 6,000 people and kept 40,000 people in prison. We don't want him here."
Coup-maker Sisi faces street protests on London visit https://t.co/aBK7bqW77Hpic.twitter.com/yUmpzNS0Hz

— Humanitarian Relief (@IHHen) November 5, 2015
Reports suggest police detained at least seven people, including five anti-Sisi protesters who lay blocking the Downing Street gates, dressed in white boiler suits.
Critics accuse Cameron of putting trade relations ahead of human rights.