Egypt's al-Sisi faces street protests on London visit
Comments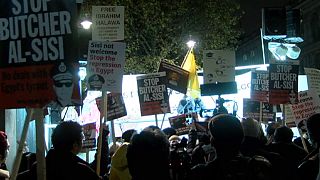 Egypt's ruler and key British regional ally President Abdel Fattah al-Sisi visits Britain today, and protesters have been out in force in London to remind people of what they claim are his undemocratic origins and anti human-rights ways.
They are angry at his record of suppressing dissent.
"These people who gathered in front of No.10 Downing Street are opponents of the Egyptian president's trip to the UK. They say he plays a major role in cracking down on opponents in Egypt," says euronews' Ali Kheradpir.
Several guest speakers spoke to the crowd, including the sisters of an Irish man who was arrested during the 2012 unrest and has been imprisoned ever since. Like many others in prison, evidence against him is weak and his sisters say he is being subjected to inhumane treatment in jail.
"What we are here for, exactly, is to tell our government that a mistake was made. Accepting this invitation or inviting that person. Because clearly you are contradicting yourselves with the rules you have made," said one man.
"Today is a very sad day for Britain for inviting this dictator to visit the UK," said another.
Al-Sisi became president of Egypt last year after leading an army takeover, ousting a democratically elected Muslim Brotherhood government that was facing big street protests.