China and Taiwan leaders to hold landmark talks in Singapore
Comments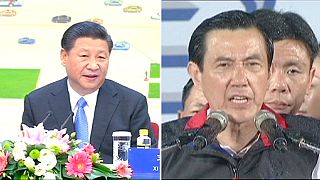 Chinese President Xi Jinping will hold talks with his Taiwanese counterpart Ma Ying-jeou in Singapore on Saturday in a landmark meeting, the first between leaders since the Chinese civil war ended in 1949.
The two are expected to handle the meeting in a delicate manner with no signing of agreements or the making of joint statements.
Relations have always been strained due to China claiming Taiwan as part of its territory and threatening to counter any move to outright independence by military force.
(China's Nationalist government fled to the island after defeat by the Communists in 1949.)
However relations have improved since President Ma took office in 2008.
This meeting, less than three months before Taiwan's elections, is a sign of how concerned China is that the significantly improved ties of recent years could be jeopardised if the pro-independence opposition party's candidate becomes president. Opinion polls show Tsai Ing-wen is leading – a big worry for Beijing.