Triumphant AK party cracks down on Turkish critics as media purge widens
Comments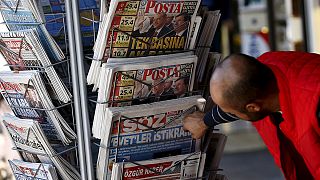 The triumphant Turkish government is turning the screw on its opponents following its re-election with an absolute majority; so much so its critics say it is choking the voice of free speech in the process.
Two editors of media outlets have been charged with formenting a coup, the most serious charges so far made against the press. Scores of people have been detained in a crackdown that extends into the military, administration, police force and governorships.
Beyond political opponents their former Gülen allies, now described by the AK party leadership as a "terrorist" group, are feeling the lash, too. Their media operation is being squeezed ahead of the trial in absentia of leader Fethullah Gülen. In exile in the USA since 1998 after falling out with AK leader Recep Tayyip Erdogan, he is accused of leading a criminal organisation.
For now Erdogan and his prime minister can bask in their shattering victory:
" 'Rule the country alone!' said our people. If the nation gives us the duty to serve people, do we stay still? We will start working from today onwards," said Prime Minister Ahmet Davutoglu on Tuesday.
Flushed with their reinforced mandate the AK is shaking out less than co-operative elements from the Turkish institutions that resist their brand of moderate Islam.