Turkey: will peace talks follow poll?
Comments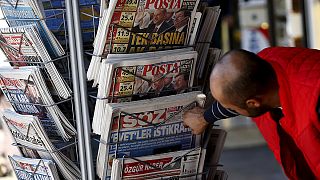 The streets of Diyarbakir are quiet, despite the result of Sunday's general election in Turkey.
It is marked contrast from the poll in June, when the pro-Kurdish HDP swept into the legislature, ending the governing AK Party's sole tenure.
At a polling station in #Diyarbakir. People queue up to vote. One voter in wheelchair helped up stairs by others pic.twitter.com/abD3TmuJmf

— Selin Girit (@selingirit) November 1, 2015
Voters turned out in their droves on Sunday but to no avail – the HDP was almost voted out of parliament.
Diyarbakir calm again, after initial shock over poll results and brief clashes between police and protesters. Now question is peace talks.

— Ayla Albayrak (@aylushka_a) November 1, 2015
"Now that the AK Party is alone in power, they say they will halt the peace process. It needs to be brought back, peace talks must begin again." said one man.
Unrest
Kurdish youth angered by poll results erect fire barricade, shout slogans in Diyarbakir center, calling for revenge. pic.twitter.com/jGvAgG9S1w

— Ayla Albayrak (@aylushka_a) November 1, 2015
News of the election result led to some unrest.
Protesters let off fireworks and threw objects in the street near the offices of the pro-Kurdish People's Democratic Party.
Police used tear gas and water cannon to disperse the crowds.