Turkish election victory promises major challenges for Davutoğlu
Comments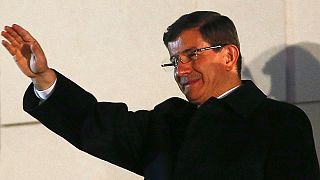 A pious, pan-Islamist, moderate conservative, Ahmet Davutoğlu beat election predictions with a gentle style. In Konya Province, in the central Anatolia region of Turkey, the mild-mannered 56-year-old spoke to his supporters in his customary way: "Today is a day of modesty, victory to our nation. I hope we will serve you well for four years and be here again in 2019. May God protect us from shame. May God protect you from bad things."
Unable to negotiate a coalition with opposition parties after the June election, the man detractors dubbed 'Erdogan's puppet' was obliged to call this one, as if November 1st was a second round in his mission to regain an absolute majority, which the AK Party had enjoyed for 13 years up until June.
Erdogan stayed out of the picture more after crowding the stage last time. He left Davutoğlu more breathing space. His prime minister did not mention Erdogan's shining prize, his quest for greater executive power. Many voters' concern over that was one of the reasons the Justice and Development (or AK) Party lost votes in June.
Davutoğlu was foreign minister from 2009 till last year, when the AK Party elected him its leader, unopposed. He and Erdogan share a vision of Turkey as a moderate Islamist regional power. The AKP's majority in parliament enhances the means to pursue this. When the party lost it in June, Davutoğlu stayed to manage Turkey's first-ever interim government. The idea was, 'hang in there, we need to get the majority back'. And so they did.
But analyst Cengiz Aktar, a Turkey-EU expert at Bahcesehir University, suggested their appetite might exceed their capacities, as there is a lot on their plate.
"[Will] Erdogan drop his dreams of a new regime, presidential regime, without checks or balances? How will they tackle the Kurdish issue, the economic problems? Because Turkey is at the end of the road."
Major internal matters and international matters need urgent attention, notably policy on Syria and threatening inroads into Turkey made by the radical Islamic State movement (ISIL).