Migrants: more money and paperwork for Lesbos
Comments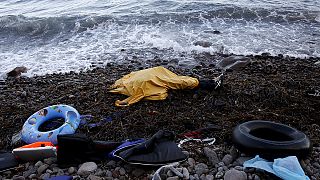 The International Federation of Red Cross and Red Crescent Societies (IFRC) says it will increase the aid it gives to Greece.
It comes after coastguards dealt with a huge rescue operation off the island of Lesbos. In terms of numbers, the biggest rescue of the crisis so far.
Coastguard rescues refugees off coast of Lesbos – video https://t.co/QnMQqM6Xtc

— Guardian World (@guardianworld) October 29, 2015
The International Organisation for Migration (IOM) estimates at least 435 people drowned in October alone, trying to reach Greece across the Aegean Sea.
The IFRC coordinates humanitarian groups around the world.
It hopes 200,000 migrants will benefit from the nine million euros extra funding, which will pay for aid and staff.
Greek Prime Minister Alexis Tsipras has accepted an invitation from his Turkish counterpart Ahmet Davutoğlu to visit Ankara. The migrant crisis is likely to feature prominently in talks.
The crisis in numbers
600,000 – the number arrived in Greece from Turkey this year
8,000 – the number arriving every day
435 – the number drowned in October
1,400 – the cost in euros of a one-way trip from Turkey to Greece with smugglers
25 – the cost in euros of the same two-way day trip for tourists
9 million – the extra funding in euros from the

IFRC
Frontex trials new registration process on Lesbos
The EU border agency Frontex is piloting a new registrtion process on Lesbos.
Arrivals are interviewed and finger-printed before being given provisional travel passes.
The data can be shared with police forces across the EU.
Frontex began testing a new accelerated registration process of migrants on Lesbos https://t.co/aiQQZCIVO6pic.twitter.com/7UunK4RNqd

— Frontex (@FrontexEU) October 27, 2015
Frontex testing faster registration procedure on Lesbos w/#EASO, #euLISA, Greek authorities https://t.co/aiQQZCIVO6pic.twitter.com/XoQy1C3YAV

— Frontex (@FrontexEU) October 28, 2015
Necessary – but is it sufficient?
There has been mixed reaction to the news of the new registration process by Frontex on Lesbos.
Some say system has got off to a good start.
#Lesbos Moria & KaraTepe registration centers clean & under construction. Beach cleaning operation underway. #Lesvospic.twitter.com/73xKpf8vch

— Daphne Tolis (@daphnetoli) November 3, 2015
Some say more staff are needed.
Eurodacsystems for registration of #refugees in Lesbos arrived, but no personel to use it. Why Avramopoulos</a>? <a href="https://t.co/5Tj0QqlSY6">pic.twitter.com/5Tj0QqlSY6</a></p>&mdash; Eleni Klotsikas (Klotsikas) October 30, 2015
While others think the crisis is a question of policy failure.
Lesbos tragedy is really scandal of EU refugee policies & lack of #safepassagehttps://t.co/bnOuAHFnV6pic.twitter.com/RwjPj7lNVq

— Peter Bouckaert (@bouckap) October 31, 2015