Two arrests in Vatican's worst leaks scandal since 'Vatileaks'
Comments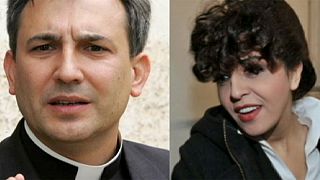 A "serious betrayal of the trust bestowed by the pope".
So says the Vatican after two members of a commission set up by Pope Francis to study reforms were
detained on suspicion of leaking confidential documents.
Spanish Monsignor Lucio Angel Vallejo, 54, number two at the Vatican's Prefecture for Economic Affairs, is thought to be the highest-ranking member of the Vatican's central bureaucracy – known as the Curia – ever to be arrested.
Italian layperson Francesca Chaouqui, a 33-year-old public relations expert, was released after reportedly agreeing to cooperate with investigators.
Both were on a commission advising on economic and bureaucratic reforms at the Vatican.
The committee completed its work last year and handed its report to the pope, who subsequently made some changes in Vatican administration, including the establishment of a new economic ministry.
The Vatican said the leaks represented a "serious betrayal of the trust bestowed by the pope", without providing any details.
It is bracing for the release of new books that could lift the lid on fresh scandals and alleged conspiracies by the old guard to undermine Francis' reform efforts.
The arrests – one of the biggest internal scandals to hit Francis' papacy so far – come as the Vatican is still reeling from the 'Vatileaks' episode that preceded the resignation of Pope Benedict in 2013.
Leaks it has dealt with this year include the publication last month by an Italian magazine of a private letter from 13 conservative cardinals, complaining about a meeting of bishops on family issues.
In another scandal last month, the Vatican dismissed a priest from his post in a Holy See office after he told a newspaper he was gay and urged the Catholic Church to change its stance on homosexuality.
Gay priest sacked by the Vatican slams the Catholic Church in letter to Pope https://t.co/YXFNN4Ss43pic.twitter.com/Yma4ocLxjQ

— The Tablet (@The_Tablet) 28 Octobre 2015