Elderly woman stabbed and Palestinian shot dead as Middle East violence rages
Comments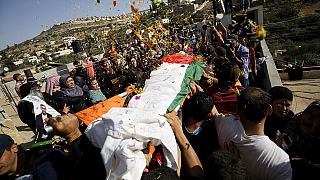 Violence flared again between Israelis and Palestinians on Monday with more stabbings and shootings.
A 19-year-old Palestinian was arrested after three people were stabbed south of Tel Aviv, including an 80-year-old woman.
The triple knife attacks at Rishon Letzion reportedly took place in several locations, including a shop.
Earlier Israeli forces said they shot dead a Palestinian who had tried to stab a soldier near a checkpoint in the West Bank.
Rising violence in recent weeks has seen 11 Israelis killed in stabbings and shootings by Palestinians.
And since October 1, around 70 Palestinians have been killed by Israeli gunfire – many of them armed attackers, Israel says, while others were shot during violent anti-Israel protests.
In Ramallah on Monday, amid much ceremony, Palestinians laid to rest two of those killed in the violence – 25-year-old Omar Al Faqeh and 23-year-old Mohammed Shamasni.
Both died weeks ago, in separate attempted attacks, according to Israel.
But funerals are being delayed with Israel threatening not to return Palestinians' bodies at all unless burials become more low-key.
The worst outbreak of violence since the 2014 Gaza war has arisen in part from religious and political tension over Jerusalem's al-Aqsa mosque compound, a site sacred to both Muslims and Jews.