Bloodshed continues in occupied West Bank
Comments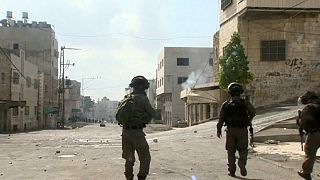 Israeli police shot dead a Palestinian who had stabbed an IDF soldier at a military checkpoint on Thursday (October 29) as a month-long spate of attacks showed no signs of abating.
The incident happened near a religious site in Hebron revered by Jews and Muslims and comes one day after hundreds attended the funeral of an American-Israeli who was wounded during a knife attack by two Palestinians on board a Jerusalem bus.
Palestinian appeal to UN Human Rights Council
Palestinian President Mahmoud Abbas appealed to the United Nations Human Rights Council (UNHRC) in Geneva on Wednesday to intervene and diffuse the violence.
"We want your protection. We want the protection of the world. We can no longer bear all these punishments and attacks carried out by the [Israeli] settlers and Israeli army," Abbas said.
Israel's Ambassador to the UNHRC said that Abbas's speech "glorified" violence against Israelis and "fanned the flames of the conflict."
Since the latest wave began on October 1, at least 62 Palestinians have been shot dead by Israelis in the West Bank and in Gaza. Of those, 35 were assailants armed mainly with knives and in some cases with guns, Israel has said. Many were teenagers.
Eleven Israelis have been killed in stabbings and shootings.
'Extreme and Unlawful measures' condemned by Amnestyl
Amnesty International says some of the killings of the Palestinians were unjustified and that Israeli forces were using "extreme and unlawful measures". Israel says it has a right to use lethal force to stop attempts to kill its citizens.
B'Tselem says settlers attacked Palestinians in Hebron for five days with Israeli "military backing" https://t.co/MzW9g8Vlfv

— Daniel Wickham (@DanielWickham93) October 21, 2015
#Netanyahu blames #Palestine falsely. https://t.co/IPTHPE1M30

— Dr. David Romei (@DavidRomeiPHD) October 25, 2015