Romanian authorities investigate nightclub blaze
Comments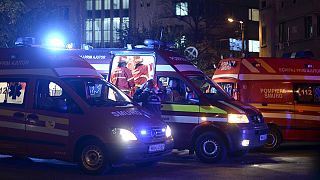 The Romanian President Klaus Iohannis has expressed his grief and anger during a visit to the nightclub in Bucharest where 27 people were killed in a fire on Friday night.
Romania has declared three days of national mourning.
An inquiry is underway by authorities.
Survivors of the tragedy have said that fireworks were set off by the band on stage in the nightclub, which led to the ceiling and a pillar to quickly catch fire.
The safety of venues in Bucharest has been the focus of much criticism since the events on Friday night. Romanian rapper JerryCo expressed his anger at the senseless loss of life in the Colectiv club:
"We are the dead people. Because this can happen at any club. You can ask yourself, how many clubs in Bucharest have two exits? In all of the town? None!"
Over 200 people were injured with around 140 still at hospitals across the Romanian capital.
One young man said one of the injured is a friend of his "on Facebook". He added that even though he had never met her "face to face", he felt that he should "do something for her, have a positive word to say to her – just express some moral support."
Authorities have warned that the death toll could rise as many of those in hospital remain in a serious condition.
An appeal for blood donors led to long queues at clinics and blood banks in Bucharest.