Bucharest nightclub fire kills 27
Comments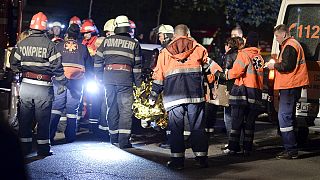 Musician Alex Teodorescu was at the Colectiv Club in the Romanian capital, Bucharest, when the fire broke out that killed 27 people and wounded scores more.
"I was near the door and I was among the first who got out. The others behind me started to get out burned, their skin was black," Teodorescu told euronews.
As many as 500 young people were packed inside the Colectiv Club when a pyrotechnic display went tragically wrong.
The club quickly went up in flame and there was a crush as people rushed to escape.
Teodorescu said that reports that there was a blast at the club do not fit with what he witnessed.
"When they (people in club trying to get out) smashed the door, the fire became even bigger. There wasn't any explosion, or at least I didn't hear any explosion.
"I think that if there was an explosion many people would have died including me."