Romania to mourn victims of Bucharest nightclub blaze
Comments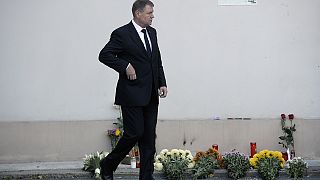 Three days of national mourning has been declared in Romania after 27 people died in a nightclub fire in Bucharest.

Dozens die in nightclub blast. https://t.co/ub3cuXEBstpic.twitter.com/IiPBF7VXLi

— Herald Sun (@theheraldsun) October 30, 2015
Authorities say 148 others are being treated in hospitals across the city.
The country's president Klaus Iohannis visited the site of the disaster: "It is unimaginable that this place was used as a venue where so many people gathered for a concert and for such a tragedy to take place in such a short period of time. It seems that even simple rules have been ignored," he said.

Klaus Iohannis visiting the site of last night's tragedy in #Bucharestpic.twitter.com/Q2Tsg7VL40

— Kit Gillet (@KitGillet) October 31, 2015
As many as 500 young people packed the Colectiv Club.
A pyrotechnic display, part of a heavy metal bands' stage show,
went tragically wrong.

Singer at Romania nightclub did not realize fire danger (https://t.co/QIYNoao2A2) https://t.co/ju5mwWBPyfpic.twitter.com/ShzrLERTUg

— 1001portails US (@1001ptUS) October 31, 2015
The club went up in flames in a moment and in the stampede to escape people were crushed and trampled.

27 killed in fire at Halloween party in nightclub https://t.co/pVdlbUZfutpic.twitter.com/WxTouwzRGA

— Evening Standard (@standardnews) October 31, 2015
It has emerged that one of the two exits were blocked off and clubers had break down the door.
More damning still, the fire brigade claimed the club made no application for a fire permit.
The government has ordered checks on clubs across the country to ensure fire regulations are being observed.