Grief and protest in the West Bank as seven Palestinians laid to rest
Comments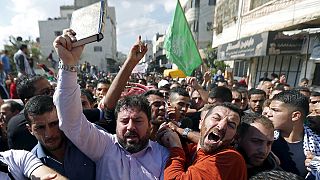 Thousands have attended a funeral procession in Hebron for five Palestinian teenagers killed in the recent upsurge of violence between Israel and Palestinians.

Thousands attend Hebron funerals of 5 children executed by Israel https://t.co/KDn68re3Vlpic.twitter.com/pcbbhZj0aO

— Ali Abunimah (@AliAbunimah) October 31, 2015
An eight-month old baby was also laid to rest after inhaling tear gas fired by Israeli soldiers in West Bank town of Beit Fajjar.

Flag is bigger than the 8-month-old Palestinian baby who died after inhaling tear gas fired by Israeli soldiers pic.twitter.com/FKPOMBMjfJ

— Rana Harbi (@RanaHarbi) October 31, 2015
Violence has erupted in Jenin after Israeli forces shot dead a man who was allegedly armed with a knife.
He was spotted at a checkpoint and shot dead.
The IDF said he attempted to stab security personal at the crossing.

Palestinian shot dead after attempting to stab a security guard north of Jenin https://t.co/GXkZ4vY3Oopic.twitter.com/w8t6nYoLCo

— Haaretz.com (@haaretzcom) October 24, 2015
Palestinian media quotes witnesses saying no such attack took place as the soldiers opened fire.

#Jenin: 16-year old boy gunned down for allegedly "running towards" guard. https://t.co/ajKtNfaJ5a#Palestinepic.twitter.com/I50YhqpdP3

— PalestineNewsNetwork (@pnnenglish) October 24, 2015
In the past six weeks 67 Palestinians have been shot by Israelis. Eleven Israelis have died in mostly knife attacks.