US calls Syria talks 'beginning of a new diplomatic process'
Comments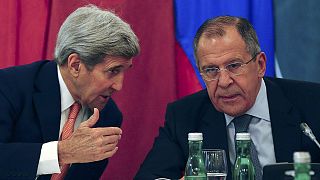 World leaders, working to come up with a plan to achieve peace in Syria, remain sharply divided over the future role of Syrian president Bashar al-Assad.
Speaking at the close of a day of talks in Vienna on Friday, US Secretary of State John Kerry said: "None of us expected today to walk in and have one side or other say to the other, 'Hey, Assad is not an issue anymore' or 'Assad is going to do this or that'."
Kerry continued: "That was not ever in anybody's contemplation. This is the beginning of a new diplomatic process, not the final chapter."
Twenty delegations took part in the talks – including, for the first time, Iran.
Tehran and Moscow are key allies of Assad.
Russian Foreign Minister Sergey Lavrov said: "I am sure that the principles formulated today in our common statement allow us to start work in a serious way.
"I am sure we can create conditions for the Syrians to act wisely and find an agreement about their country's future," Lavrov added.
Neither Assad's government nor the Syrian opposition was represented at the talks.