Slovenia plans steps to 'ensure number of migrants in country remains manageable'
Comments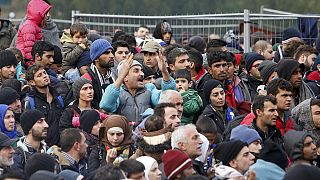 Hundreds of frustrated migrants and refugees at Sentilj in Slovenia, the country's main border crossing with Austria, pushed through barriers on Friday to get across.
Austrian authorities are conitnue to struggle to process the thousands of people arriving daily – since Slovenia started transporting large groups to the border by train.
Meanwhile, Slovenia's Interior Minister Vesna Gyorkos Znidar said: "Slovenia has measures ready, including the most restrictive ones."
"They (the measures) will be increased," Znidar added, "based on the urgent need to ensure the flow through Slovenia as a transit state and that the number of migrants in our country remains manageable. We carry a great human responsibility."
Slovenia has become the major route for migrants heading to Austria and Germany after Hungary closed its southern borders.