Migrants: what is happening where
Comments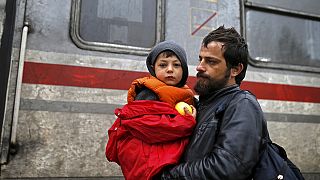 A backlog of thousands of refugees and migrants is building up on the border between Slovenia and Austria.
Tens of thousands of people are waiting to cross. The majority are housed in heated tents but several hundred are forced to live in the open.
The bottleneck began to grow after rail links from Croatia to Slovenia were re-opened on Tuesdaym allowing thousands to continue their through journey to central and northern Europe.
Euronews takes a look at what effect the unexpected surge is having on the current migration situation across the Balkans.
Croatia
Thousands of migrants and refugees are boarding trains for Slovenia from the Croatian border town of Tovarnik.
Des jeunes femmes #réfugiées attendent un train à la gare de Tovarnik en #Croatie. pic.twitter.com/VofWdivAXG

— LeHCRenfrançais (@Le_HCR) October 25, 2015
A spokesperson for the Croatian government says five trains, each carrying around 1000 people, had already left Tovarnik by midday on Thursday.
The rail links between Croatia and Slovenia were re-opened on Tuesday after several days of closure.
Slovenia
Thousands of people continue to gather at Sentilj on the Slovenian border as they wait to cross into Spielfeld in Austria.
Refugees and migrants wait to cross the Slovenian-Austrian border in Sentilj. #AFP Photo by ReneGomolj</a> <a href="https://t.co/0MmS8QLTik">pic.twitter.com/0MmS8QLTik</a></p>&mdash; Aurelia BAILLY (AureliaBAILLY) October 29, 2015
The majority are housed in heated tents but several hundred are in the open air. Officials have set up a queuing system, with groups of around 50 allowed to cross over each time.
Once in Austria, they will be registered before continuing their journey by bus to other locations.
The backlog began building up after the Slovenian authorities started passing on migrants arriving by train from Croatia to the Austrian border.
Austria
On Wednesday, Austria announced plans to erect barriers at the busy Spielfeld border crossing with Slovenia.
Tensions high on Austrian border at #Spielfeld. Soldiers failing to keep family groups together as camp overflows pic.twitter.com/J7ItQMNphM

— Jamie Merrill (@Jamie_Merrill) October 29, 2015
Austria is a conduit into Germany for hundreds of thousands of people fleeing conflict and poverty in Africa and the Middle East.
A surge of people is gathering on the Slovenian side of the Austrian border, after rail links with between Slovenia and Croatia were reopened, allowing thousands to continue their journey across the Balkans.
Vienna says the planned barriers will be limited in scope and not on the same scale as those constructed by other states.
Hungary
The Hungarian government says it plans to challenge the EU's plan for mandatory quotas for migrant relocation.
Minister of Interior: #HUN government will do everything within its power to stop mandatory quotas https://t.co/rh7KoZV1CC

— Zoltan Kovacs (@zoltanspox) October 28, 2015
The challenge will be made if parliament endorses the proposal in December, according to a spokesperson for Prime Minister Viktor Orban's office.
Slovakia has already flagged up a legal challenge against the plan.
Germany
Dealing with the refugee crisis could cost Germany 16 billion euros next year.
That is the opinion of Germany's states, which say they are struggling to cope with the extra cost. They are asking for more help from the federal government in Berlin. Some states, like Bavaria, claim they are reaching the limit of their capacity.
BAVARIAPILESPRESSURE ON MERKELANDFAYMANN TO STOP "STATE ORGANIZED SMUGGLING" OF MIGRANTShttps://t.co/M0w6ISo63S

— OccuWorld (@OccuWorld) October 28, 2015
Europe's richest country has become the favoured destination for people fleeing war, violence and poverty.
At least 800,000 are expected to arrive this year.
Helmut Dedy from the Association of German Cities estimates states and municipalities will still need as much as 5.5 billion euros in funds.
The government in Berlin pays its 16 federal states 670 euros each per month for every asylum seeker they take in.
Germany has also sharpened its tone with next-door neighbour Austria, accusing Vienna of shuttling groups of people over their shared border after dark.