Prominent German ISIL propagandist killed in Syria - US officials
Comments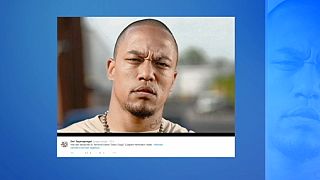 German jihadist and former rapper Denis Cuspert is believed to have been killed in Syria.
US officials said that Cuspert was killed in a US airstrike on 16 October, but did not provide further details.
Reports social media suggested Cuspert was killed Raqqa, east of Aleppo.
Born in Berlin, Cuspert was once a popular rapper, known by the alias 'Deso Dogg.'
He joined the Islamic State group, also known as ISIL, in 2012 and appeared in propaganda videos.
The US State Department described Cuspert as "emblematic of the type of foreign recruit ISIL seeks for its ranks – individuals who have engaged in criminal activity in their home countries, who then travel to Iraq and Syria to commit worse crimes," in a statement in February.