Syria: Bombing intensifies before Friday's talking
Comments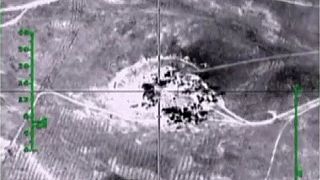 Helicopters said to be flown by President Bashar al-Assad loyalists have been dropping bombs over a Damascus suburb.
Although the location has been verified its unclear who the targets were as civilians appear to have been the main casualties. Locals claimed they were Russian bombs but that has not been substantiated.
Moscow said its aircraft have struck 118 "terrorist" targets in Syria over a 24-hour period, based on new intelligence. In all Russia claims to have destroyed more than 800 terrorist targets in Syria since its campaign of air strikes began on September 30, an intervention Moscow says is aimed at destroying extremist Islamist militants, but which Washing ton says is also targeting moderate rebels opposed to Syrian President Assad. Washington also remains sceptical as to the effectiveness of Moscow'a four week intervention.
Antony Blinken US Deputy Secretary of State said in in televised interview : "Russia cannot afford to become mired in Syria. It has a need to find a way out of what it's gotten into, and indeed its actions on the ground in support of the regime are not going particularly well. They've made very little progress despite the onslaught of Russian air power. So Russia now has an incentive and it has more influence to actually try to move Assad and the regime toward a political transition."
The focus now is on Friday's Syria talks in Vienna to which Iran has for the first time been invited along with the US and Russia and around other dozen participants. To which a US diplomat said, "we are starting from a low base… Russia and Iran on one side, everyone else on the other".