Syria: widening the conversation
Comments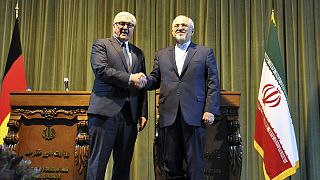 The international community has welcomed Iran's decision to join talks on Syria in Vienna.
Russia, the US and Europe will be at Friday's meeting.
#Iran's JZarif</a> to join <a href="https://twitter.com/hashtag/Syria?src=hash">#Syria</a> talks in Vienna <a href="https://t.co/COlNrqUNAj">https://t.co/COlNrqUNAj</a> <a href="https://t.co/gKsFzGTqjN">pic.twitter.com/gKsFzGTqjN</a></p>&mdash; dwnews (dwnews) October 28, 2015
They will be joined for the first time by Turkey, Saudi Arabia and Iran.
"The first step" – Germany
FM #Steinmeier hopes that all relevant partners incl #Iran will come together for #Syria talks for 1st time. #Viennahttps://t.co/D5CzV17jDz

— GermanForeignOffice (@GermanyDiplo) October 28, 2015
Germany's foreign minister says it is not a breakthrough nor a political solution, but is definitely the first step:
"This might not seem like much, but in the light of the problems we have had in recent weeks and months, getting the most important participants around one table means a lot. The fate of Assad will not be decided in Vienna."
The future of Bashar al-Assad
The future of President Bashar al-Assad is key.
"The aim of the US is to get rid of Assad, our aim is to defeat terrorism" – Putin https://t.co/Bl0DoFTCR4pic.twitter.com/o92MmKx1aS

— Middle East Eye (@MiddleEastEye) October 24, 2015
Russia and Iran say he must play a part in any political transition.
But others, notably the US, say Assad has no role in Syria's future.
No decision on this is expected from the current talks.