Protesters clash with police over planned US airbase in Japan
Comments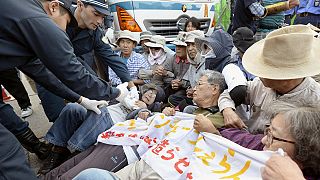 Police have dragged away protesters trying to block work on a contentious US airbase in Japan.
Dozens of protesters, many of them elderly, gathered at the site in the Henoko area of Okinawa province.
US base: Okinawa local residents object to living with US Marine Air Station Futenma. https://t.co/2aBltsnDCBpic.twitter.com/EpbJwzoncR

— China Daily Asia (@ChinaDailyAsia) October 29, 2015
Government to halt Futenma work for a month http://t.co/M5K9S93sO4pic.twitter.com/8bxMjVp8nm

— The Japan News (@The_Japan_News) August 5, 2015
They want to block access for trucks and bulldozers to the planned Futenma air base.
Work has begun at the site,19 years after it was first planned.
Government resumes work on planned Futenma replacement airstrip in Okinawa https://t.co/JmLXDnoXr0

— The Japan Times (@japantimes) October 29, 2015
Why has the row intensified?
The row has intensified after local governor Takeshi Onaga revoked permission for work at the site two weeks ago.
In Japan, New Okinawa Governor Pledges to Shut Controversial U.S. Air Base
http://t.co/UeC9rav7tQpic.twitter.com/YTF5OGGCgp

— RyukyuUnion沖縄の自己決定権 (@RSB_2020) November 17, 2014
But the government in Tokyo decided on Tuesday his decision was not legitimate and has overridden it.
Takeshi Onaga fails to win support of John McCain against Futenma base relocation plan | http://t.co/wr2YcDQBHNpic.twitter.com/bk0tZu5be9

— Senna · K.Murakami (@kenichi8755) June 3, 2015
Work resumed on Thursday morning, prompting the protests
What is the dispute about?
In the middle of #Ginowan, this is #US#Futenma military base, that residents want to relocate in #Okinawa, #Japan. pic.twitter.com/bHUTKyy7z6

— Pablo M. Díez (@PabloDiez_ABC) October 28, 2015
The US and Japan agreed to close the US air base at Futenma in 1996.
Residents of Okinawa resent hosting any military base at all.
But they additionally oppose the government's plan to move the US base to a nearby island.
Plans to move it stalled due to opposition from Okinawa residents worried about noise, pollution and crime levels.
The government in Toyko says it plans to stick to the agreement.
Tens of thousands of people are supporting the campaign.