Iran takes seat in international peace talks on Syria
Comments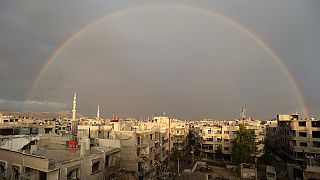 Iran's foreign minister arrived in Vienna on Thursday (October 29) for peace talks on Syria.
It's the first time Tehran takes a seat alongside world powers to try to find a solution to the conflict that's been raging on for over four years.
A first round of bilateral meetings was held on Thursday in the Austrian capital. US Secretary of State John Kerry met his Iranian counterpart Javad Zarif.
"We have emphasized that the solution for Syria must be based on principles that are acceptable to all parties, with regards to interference in domestic issues, the fight against terrorism, respect for the government of Syria, and for the right of the Syrian people to decide their own fate," Zarif said.
Kerry also met with the foreign ministers of Russia, Turkey and Saudi Arabia. A dozen delegations are expected in Vienna on Friday.
EU foreign policy chief Federica Mogherini said: "I believe it's already a relevant compromise, a relevant commitment for all the sides to be here tonight and tomorrow, to come together, to accept to sit together. This is already a very relevant starting point, that only one week ago was very difficult to anticipate."
As I said earlier at CarnegieEndow</a>, finding way forward on <a href="https://twitter.com/hashtag/Syria?src=hash">#Syria</a> won't be easy, but all concerned nations have responsibility to try.</p>&mdash; John Kerry (JohnKerry) October 28, 2015
Iran and Russia are longtime allies of Syrian President Bashar al-Assad and want him to remain in power, while the United States, European powers and Saudi Arabia want him to step down.
The foreign policy chiefs of Lebanon, Egypt, Britain, France and Germany are due to join the talks in Vienna on Friday.