Rugby World Cup: Australian fans call for earlier kick-off time
Comments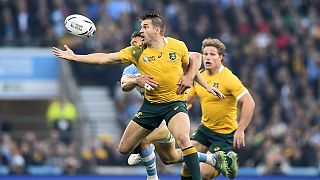 The 2015 Rugby World Cup final pits the two best teams on the planet in Australia and New Zealand.
But being in England at Twickenham the kick off time has caused some unrest down under.
Australian rugby fans have launched a tongue-in-cheek petition asking for a change to the kick off time of Saturday's finale which will be aired in Australia at 3 am.
The petition said : "After weeks of little sleep with games in the middle of the night, it's only fair the governing body listen to the rugby global powerhouse of the southern hemisphere and push it back to a more suitable viewing time for fans of the competing teams," the petition said.
"The southern hemisphere teams have given English audiences the greatest gift of all — the gift of dominant running rugby and rolling mauls. All we ask in return is a small change of schedule. By playing the game a mere seven hours earlier you will be making us, your rugby superiors, very very happy.
"It's not as if UK fans are that interested in the final since their teams are out, so get on board this worthy cause."