MSF: will Haydan lead to a change of heart?
Comments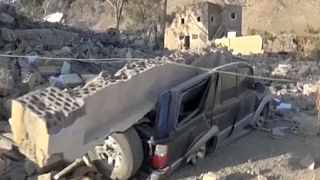 Medecins Sans Frontieres says it may be forced to reconsider how it deploys staff after another of the hospitals it supports was flattened by air strikes.
Staff and patients escaped largely unharmed after the small facility in Haydan in northern Yemen endured a two-hour bombardment.
"Attack is another illustration of a complete disregard for civilians in Yemen; bombings become a daily routine" https://t.co/ghENn70nEv

— Doctors w/o Borders (@MSF_USA) October 27, 2015
MSF says the coordinates of the hospital were well-known and it had identification painted on its roof. The organisation says deliberately targeting a hospital is a war crime. UNICEF says it is the 39th health centre hit in the region since March.
Pictures emerge of the MSF hospital in north Yemen hit by Saudi-led airstrike https://t.co/ME1MHjscF2pic.twitter.com/LLN7i8AjPX

— Middle East Eye (@MiddleEastEye) October 28, 2015
#Yemen: #UNSG Ban condemned Suadi-led airstrikes that destroyed hospital run by MSF</a> <a href="https://t.co/NCTpVtnMbS">https://t.co/NCTpVtnMbS</a> <a href="https://t.co/SSe2SwWqIJ">pic.twitter.com/SSe2SwWqIJ</a></p>&mdash; UN News Centre (UN_News_Centre) October 27, 2015
The president of MSF France, Dr Meguerditch Terzian, says the organisation may be forced to rethink how it deploys its staff:
#MegoTerzian, nouveau président de #MSF. A lire sur notre page Facebook ou en PDF ici : http://t.co/MWQ62zR5svpic.twitter.com/pkxY9qwnSR

—

FRANCE

ARMÉNIE (@France_Armenie) October 2, 2013
"At least 19 hospitals have been partially destroyed in Yemen over the last six months, so this one, our hospital in Haydan, is number 20 which is very significant. I am very worried about the situation in Yemen and in Syria as well as in other countries where we are intervening and we are wondering if we should continue to send personnel to these countries where even the regular armies do not respect international law."
Humanitarian safety
The safety of humanitarian workers in conflict zones is already in the headlines.
Kunduz: Death Toll from Attack on MSF Hospital Still Rising: 30 confirmed dead https://t.co/URxvID6oOEpic.twitter.com/7kIb24Zl9K

— Patricia Gossman (@pagossman) October 27, 2015
22 people including 12 MSF staff died when a hospital in Kunduz in northern Afghanistan was hit by a US air strike at the start of October.
The NGO has condemned what it says both amount a violation of international law and is demanding explanations.