MSF hospital in north Yemen destroyed in airstrike three weeks after Kunduz
Comments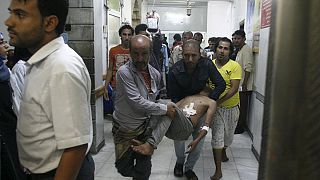 First, Kunduz in northern Afghanistan, and now three weeks later it is Heedan in Houthi-controlled north Yemen, another Medicins sans Frontieres hospital destroyed by an air raid.
This time no-one was killed, with MSF reporting two staff members have been wounded, but the hospitals GPS co-ordinates had been made public weeks before several missiles slammed into the building.
The Saudis, leading the air campaign, deny their planes were involved.
"I am very worried about the situation in Heedan district where 200,000 people live. The hospital that MSF was supporting was destroyed today. It was covering the health needs of the population so honestly I don't know how the population will manage to have access to healthcare," said MSF's Dr. Meguerditch Terzian.
Footage has been released of air strikes on seven boats the Saudi-led coalition against the Houthi rebels say were smuggling weapons into Yemen. Yemeni sources say at least 100 people died in the attacks near Akban island.