Congo: calls for constitutional referendum to be annulled
Comments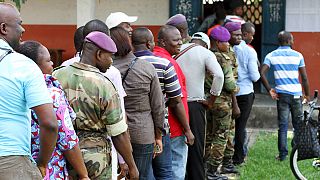 Officials in Congo say an overwhelming majority of citizens have approved far-reaching changes to the country's constitution.
The Congolese Electoral Commission says 92 percent of those who voted approved a change that would allow the President to run for a third consecutive term.
Turnout in Sunday's referendum has been put at 72 percent.
Congo votes by landslide to allow third presidential term https://t.co/Pxc99wkemtpic.twitter.com/6wvYgAZQ1p

— Reuters Top News (@Reuters) 27 Octobre 2015
President Denis Sassou Nguesso
The planned changes would allow President Denis Sassou Nguesso to run for a third consecutive term.
Four people killed in the Republic of Congo during a protest against President Nguesso https://t.co/gbO0fESb0ipic.twitter.com/Em2EFBJKn7

—

TIME

.com (@TIME) 21 Octobre 2015
He has governed the oil-rich nation from 1979 until 1992, 31 of the last 36 zears. The 71-year-old could win a further seven-year mandate at an election planned for next year.
He is the latest African leader to try to prolong his hold on power by changing the constitution. Several similiar initiatives have ended in violence. Four died in Congo last week when security forces opened fire during street protests.
Opposition calls for referendum should be annulled
Congo opposition leader claims low voter turnout as a sign of victory – https://t.co/Zn1j3uMQFrpic.twitter.com/FHzNhdH4kQ

— Voice of America (@VOANews) 27 Octobre 2015
The opposition in Congo boycotted the poll, a senior opposition leader saying it should be annulled due to low turnout.
And eyewitnesses claim a lack of materials meant few people actually did turn up got to cast their vote.