Whale-watching holiday of a lifetime turns to tragedy in Canada
Comments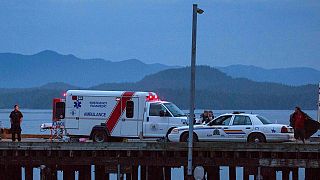 Five Britons have been confirmed killed while on the holiday of a lifetime in western Canada.
They were part of a group of 27 tourists who were whale-watching in British Colombia when their vessel capsized. Conditions at the time were described as rough, but not exceptional.
It is the second time the excursion company, which operates out of Tofino, has suffered a fatal accident. In 1998 one of its boats sank killing the captain and a German tourist.
Twenty-one people were rescued as a military helicopter and plane were scrambled, and coast guard vessels illuminated the area as darkness fell, but one person is still unaccounted for.
The boat, the Leviathan II, remains partially submerged and the company, Jamie's Whaling Station and Adventure Centres, says it is co-operating fully with the authorities to find out what caused the accident.