Not shaken or stirred: Daniel Craig dazzles as 007 on Spectre red carpet
Comments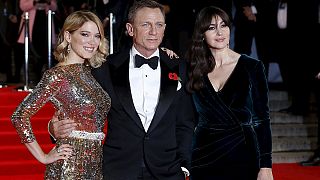 Daniel Craig looked neither shaken nor stirred when he returned to the red carpet for his fourth appearance as international super spy James Bond.
The red carpet is ready... #SPECTRE World Premiere. pic.twitter.com/n1W4KuXhQH

— James Bond (@007) October 26, 2015
He walked down the red carpet with confidence at the opening of Spectre at London's Royal Albert Hall.
But it wasn't just for the cast's eyes only. Sam Mendes' second offering to the 24-film franchise became the first
Bond movie to open on nationwide release across the UK and Ireland on the same day as its premiere.
Craig has played 007 for a decade.
"I've just been allowed to be creatively involved with these films from the very beginning and I've continued to be allowed to do it with this," he told the press. "Thankfully we've just got the most amazing team around us and we figure it out. We've got one of the best directors there is and some of the best writers."
Some fans with a live and let die attitude queued from as early as two days before the premiere, braving the brisk British weather to catch a glimpse of Craig, Bond girls Léa Seydoux and Monica Belluci and the Duke and Duchess of Cambridge and Prince Harry.
"It's magic. It's incredible how James Bond represents so much, not just in England but all over the world," said Belluci.
In the film, Bond goes up against a criminal syndicate known as Spectre (Special Executive for Counter-Intelligence, Terrorism, Revenge and Extortion). It's a shady organisation last referred to in 1971's Diamond's Are Forever, in which Sean Connery played 007.
Early reviews have been positive. Craig, however, has so far refused to comment on whether his time in the role will die another day, or if his fourth outing as Bond will be his last.
Red carpet action