Poland votes in a general election that could see the governing Civic Platform ousted
Comments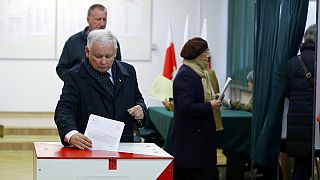 The opinion polls are predicting that the opposition Law and Justice party will win the most votes in today's general election in Poland, but it is far from certain they will be able to stitch together a majority to govern.
For eight years the Civic Platform has presided over one of the EU's fastest-growing economies, but it has been hampered by corruption scandals, and undermined in the deeply Catholic countryside by a Law and Justice mobilisation of those who feel left out of the economic boom, and blame all the country's ills on what they see as an EU-orchestrated economic takeover by the Germans.
"Let's say I prefer the Civic Platform to other parties. Not necessarily because I'm happy with the government, I think it is the better choice of bad choices."
"I voted for Law and Justice. Why? Because they are closest to my patriotism and my Catholicism," were two differing opinions in the capital, Warsaw.
The results are expected to be announced some time tonight, but the identity of the new government may take longer as there are likely to be coalition negotiations.