EU strives for common stance as spats mark response to Balkan migrant crisis
Comments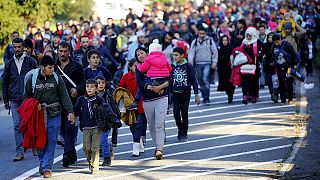 As tens of thousands of migrants stream across the Balkans splits, spats and threats are features of the European response.

Three Balkan leaders vow to shut borders ahead of EU talks https://t.co/rundS9bCGnpic.twitter.com/aXnkgCQLv9

— Press TV (@PressTV) October 25, 2015
The leaders of Bulgaria, Serbia and Romania have met to discuss their reaction to the increased flow of migrants across the region following Hungary's decision to close its borders.

#Bulgaria, #Romania and #Serbia PM's agree & expand collaboration ahead of #WB#Summithttps://t.co/bKhGrS0Siqpic.twitter.com/7881sZTNNc

— Cees Vis (@CornelisVis) October 24, 2015
In a statement they said they would close their borders if Germany and Austria blocked entry to migrants.
EU leaders are meeting to confirm a common stance to a problem that has seen 500.000 migrants and refugees arrive in the Balkans since the beginning of the year.

Looming Balkan winter threatens children on the move in Europe https://t.co/5Vc5E5NuAY via @Reuters#refugeecrisis#migrantcrisis

— UNICEF (@UNICEF) October 23, 2015
Donald Tusk is the president of the European Council:
"Today, no task is more important for the moderate centrist political camp than the re-establishment of Europe`s external borders. And not in order to make Europe into an inaccessible fortress, but to effectively protect the values I have just mentioned in solidarity, freedom and openness.
Only then will we be able to stop the radicals in their march for power," he said.
Slovenia is considering erecting a barrier along its border with Croatia if the EU fails to reduce the migrant burden on the most exposed countries.
Slovenia gives army more power amid migrant crisis https://t.co/fZkCyz4pPb

— Reuters Top News (@Reuters) October 21, 2015
Leaders of the richer European states fear a right-wing backlash if the unchecked flow of migrants continues.