Clashes in Cologne over anti-Islam rally
Comments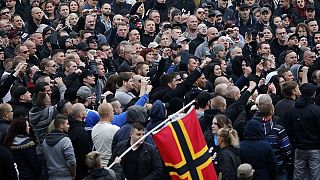 German riot police used water cannon to keep left – wing radicals and anti-Islam protesters apart on Sunday as they held rival rallies in the city of Cologne.
Around 10,000 left-wingers outnumbered their right-wing counterparts. What began peacefully with many families attendening descended into clashes with police.
The left-wingers said they wanted to stop the spread of xenophobia.
The anti-Islam protesters belonged to a group calling themselves HOGESA (Hooligans Against Salafists). It is made up of self proclaimed football hooligans, right- wing militants and neo-Nazis and is a more radical off-shoot of the anti-Islam PEGIDA group(Patriotic Europeans Against the Islamisation of the West) which last week held its biggest rally in months in the city of Dresden.
Cologne is the city where pro-refugee politician Henriette Reker, who was recently elected mayor, was stabbed in the neck while on the campaign trail in an attack that shocked Germany.
Standing as an independent, though close to the ruling Christian Democrats (CDU) of Chancellor Angela Merkel, Reker became Germany's most prominent victim of a growing backlash against a record influx of refugees this year.