More tear gas chaos inside Kosovo parliament
Comments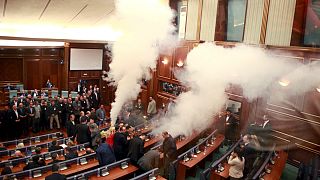 Opposition politicians have again released tear gas to bring proceedings to a halt in Kosovo's parliament in the latest such protest against an EU-brokered deal with Serbia – from which Kosovo unilaterally declared independence in 2008.
On Friday alone, two tear gas incidents occurred.
The opposition claims the deal, granting more autonomy to ethnic Serb areas, is a threat to Kosovo's independence.
Kosovo MPs in tear gas protest -- for third session running https://t.co/JZ1gWbARpzpic.twitter.com/e59DA04est

— Agence France-Presse (@AFP) 23 Octobre 2015
Amid chaotic scenes inside parliament with plastic water bottles being hurled and politicians shielding behind umbrellas, outside the chamber, police clashed with protesters also demanding the deal be cancelled.
Serbia still formally regards Kosovo as part of its territory but has moved to settle relations between the two as a condition of Belgrade's further progress towards EU membership.