Kosovo: will the opposition scupper an EU-brokered deal with Serbia?
Comments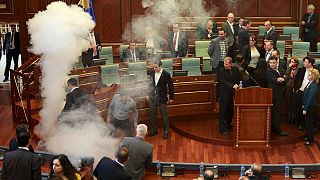 Teargas has been set off in Kosovo's parliament.
It is the second time this has happened in a week.
It is in protest at an EU-brokered deal aimed at normalising relations with Serbia.
Some people are angry as they think it will grant greater powers to ethnic Serb areas of the country, along with the possibility of funding from Belgrade.
They say it is a threat to Kosovo's independence from Serbia, declared with Western backing in 2008.
Opposition politicians say they will disrupt the workings of parliament unless the deal, signed in 2013, is abandoned.
On Monday, police fought running battles with stone-throwing protesters demanding the release of an opposition figure who is alleged to have set off teargas in parliament days before.
Police released Albin Kurti after a few hours detention.