Middle East peace mediators move to defuse Israeli-Palestinian violence
Comments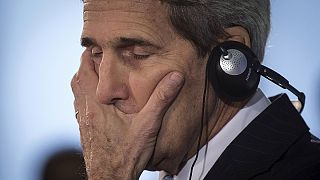 US Secretary of State John Kerry says he is cautiously optimistic but he and other Middle East peace mediators meeting in Vienna on Friday face a tough task in defusing Israeli-Palestinian violence.
Like Kerry, the EU's top diplomat Federica Mogherini has held talks with Israel's premier Benjamin Netanyahu.
She said he had made pledges over the flashpoint al-Aqsa mosque compound at the heart of the turmoil.
"We discussed concrete ways to de-escalate the situation on the ground and to guarantee the status quo in the holy sites," Mogherini told reporters in Berlin.
"I had from him the clear commitment reaffirming that he wants to guarantee the status quo in the holy sites."
Discussed with @netanyahu steps to stop violence & improve things on the ground Tomorrow Quartet,26/10 meeting Abbas pic.twitter.com/aGOZZmp0Bp

— Federica Mogherini (@FedericaMog) 22 Octobre 2015
Nine Israelis have been killed in Palestinian stabbings, shootings and vehicle attacks since the start of October.
At least 49 Palestinians, including 25 assailants, among them children, have been killed in attacks and during anti-Israeli protests.
Among the causes of the turmoil is Palestinians' anger at what they see as Jewish encroachment on the al-Aqsa mosque compound in Jerusalem's Old City, Islam's holiest site outside Saudi Arabia, which is also revered by Jews as the location of two ancient temples.
Amid more violence on the ground on Thursday, four men appeared in court in connection with the beating of an Eritrean migrant, who was shot by a security guard and attacked by a crowd that mistook him for a gunman.
The man died in the incident last Sunday at a bus station in the southern Israeli city of Beersheba.