Kerry calls for end to incitement as he meets Israel's Netanyahu
Comments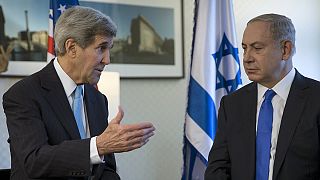 US Secretary of State John Kerry has called for an end to incitement, as a wave of violence between Israelis and Palestinians continues.
He has been meeting Israeli Prime Minister Benjamin Netanyahu in Berlin. Netanyahu blames the Palestinians for the surge in unrest.
"There is no question that this wave of attacks is driven directly by incitement, incitement of Hamas, incitement from the Islamist movement in Israel and incitement I'm sorry to say from President Abbas of the Palestinian Authority," said Netanyahu.
Speaking to reporters alongside Netanyahu, Kerry said: "It's absolutely critical to end all incitement and all violence and to find a road forward to build the possibility, which is not there today, for a larger process."
At least nine Israelis have died in Palestinian stabbings, shootings and vehicle attacks since the start of October.
Forty-eight Palestinians, including 24 attackers, have been killed by Israeli security forces.
Tension over the al-Aqsa mosque compound in Jerusalem's Old City is among the causes of the unrest.
The compound is Islam's holiest site outside Saudi Arabia and is also revered by Jews as the location of two ancient Jewish temples.
Netanyahu has pledged to maintain a decades-old status quo at the compound that bans Jews from praying there and has denied Palestinian allegations that he intends to change the arrangement.