More victims in Israeli - Palestinian violence
Comments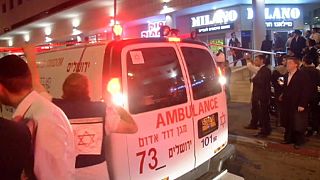 Three more people have died in Israel and the West bank as tension over a surge in Palestinian street violence remains high.
In Jerusalem local media said a Jewish man was shot and killed by Israeli soldiers who mistakenly thought he was an attacker during an altercation on a bus.
In the occupied West Bank a Palestinian was shot dead after stabbing and wounding a woman soldier.
And in a town north of Hebron in the West Bank Israeli military have said that five soldiers were injured when a Palestinian driver plowed his car into them.
Two of the soldiers were hospitalized and three more suffered light injuries. The driver of the vehicle was shot by Israeli security forces at the scene and later died , according to an army spokesman.
Earlier on Wednesday the memorial took place for the 29-year-old Eritrean national Haftom Zarhum who was mistakenly shot for an attacker at the Beersheba bus station and then beaten by an enraged mob.
Israeli police have arrested four suspects in connection with the incident which was caught on video.
"We faced persecution and genocide and we came on a journey.. to find a safe place, but we are not safe." https://t.co/zgMBp8bbRa

— NaomiZeveloff (@NaomiZeveloff) October 21, 2015