'Colossal' hurricane barrels towards Mexico's Pacific coast
Comments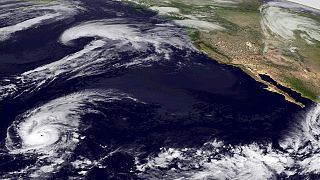 Mexico is bracing itself for one of the most powerful hurricanes in history.
Hurricane Patricia is barreling towards the country's Pacific Coast.
The Category 5 storm is the strongest ever recorded in the Western Hemisphere, according to the US National Hurricane Centre.
Packing winds of 325 kilometres per hour, it is being compared to Typhoon Haiyan, which killed thousands in the Philippines two years ago.
Businesses have boarded up windows, tourists have been evacuated from hotels and residents have stockpiled supplies.
A state of emergency has been declared in three states, which lie in Patricia's path.
Mexico's communications and transport minister, Gerardo Ruiz Esparza, said the hurricane is of "colossal" proportions, and urged people to protect themselves.
"It's a danger to the coastlines, and a danger to the population," he said.
Mexico's government has warned that ash and other material from volcano of Colima, about 210 kilometres from Puerto Vallarta, could combine with massive rainfall to trigger "liquid cement" -style mudflows that could affect nearby villages.
The hurricane was expected to make landfall on Friday afternoon or early evening.