Hurricane Patricia: Mexico braced for 'most intense' storm
Comments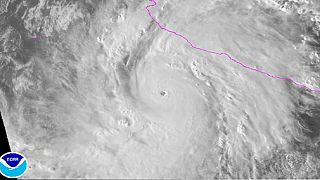 Mexico is bracing itself for the arrival of Hurricane Patricia, described as the most powerful to hit the region in recent memory.
Weather officials say its grown at an "incredible rate" into a potentially catastrophic Category 5 storm, as it churns towards the coast.
A state of emergency has been declared. More than 50 municipalities in the states of Colima, Nayarit and Jalisco are on alert.
"It's very probable that this hurricane will effectively be the most intense hurricane that's existed in this part of the Pacific, in our country, since regards began in 1949. We didn't have records before that and we don't know," said Roberto Ramirez, Director General of Conagua, a government organisation.
"This hurricane could become the most intense in the history of our part of the Pacific."
The storm has had maximum sustained winds of around 295 kilometres per hour and is said to be comparable to Typhoon Haiyan which killed more than 6,000 people in the Philippines two years ago.
People are being warned to steer clear of beaches and rough seas – and to take shelter.