Germany's interior minister says migrant crisis has two faces
Comments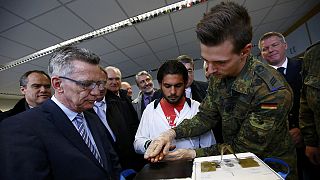 Migrants not needing protection in Europe will be sent back home. The warning from Germany's interior minister Thomas de Maiziere, who says the politics of migration has two faces.
He's been visiting a centre in the south of the country, where people are registered or told that they will be repatriated.
"Those who have a need for protection should be allowed to stay here, be integrated, learn the language and get a job," said de Maiziere.
"But those who do not need protection, even if they have just as understandable reasons to lead a better life here, they must leave our country."
Meanwhile, the UN's human rights chief has accused the Czech Republic of committing systematic human rights violations by detaining refugees for up to 90 days – and strip-searching them for money to pay for their own detention.
Zeid Ra'ad al-Hussein also says he's alarmed about "Islamophobic" statements coming out of the country.
The Czech president has rejected the criticism. His spokesman said: "the president has long warned of the threat of Islamic fundamentalism. He stands by his opinion and he will not change it under pressure from abroad."