EU calls mini summit over Balkans struggle to cope with refugee crisis
Comments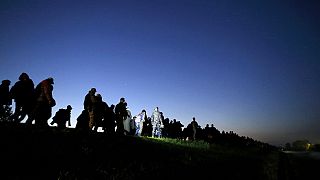 Refugees arrived at the Austrian border station at Spielfeld, tired and hungry on Wednesday night. Around 3,000, mostly young men but there were also families with children. Some were housed in heated tents for the night others were taken to temporary shelters across Austria.
Before Austria they had trekked across Slovenia.The government there is among several calling for help from Brussels. Since Saturday 20,000 migrants have arrived.
Responding to the crisis EU Commission President Jean Claude Junker has called a mini summit for Sunday. It's purpose is to agree "what are called "common operational conclusions for immediate implementation.
The heads of state or government invited to the meeting on Sunday are Austria, Bulgaria, Serbia and Slovenia, plus key organisations involved.
In the meantime Slovenia has passed emergency legislation to give its army more powers to help police its borders.
And on Wednesday for the first time since the start of the migration crisis, "two boat loads of refugees landed at a British military base of Akrotiri"öhttp://www.theguardian.com/world/2015/oct/21/refugee-boats-akotiri-uk-military-base-in-cyprus on Cyprus. (One of two sovereign territories retained by Britain on Cyprus, a colony until 1960)
Despite its proximity to Syria (around 80km), EU member Cyprus has not seen any of the massive influx of refugees seen by either Italy or Greece, where arrivals have topped 500,000 this year.
It's thought refugees have tended to avoid the island because of its relative geographical isolation from the rest of Europe and difficulties in leaving.
The status of the 140 migrants is unclear.
The UN's refugee agency says the UK is legally obliged to resettle the refugees, contradicting claims by the Ministry of Defence that they are a Cypriot responsibility.
2 BOATS W/ 120 MIGRANTSARRIVE ON BRITISHSOIL IN SECURITYBREACH <a href="https://twitter.com/hashtag/CYPRUS?src=hash">#CYPRUS</a> RAF BASE <a href="https://t.co/mfUg4SgQkF">https://t.co/mfUg4SgQkF</a> <a href="https://twitter.com/hashtag/ISIS?src=hash">#ISIS</a> <a href="https://t.co/6ALq47MsQp">pic.twitter.com/6ALq47MsQp</a></p>&mdash; Eta Centauri (η Cen) (ECentauri) October 21, 2015