Erdogan: Ankara attacks were a "collective" effort
Comments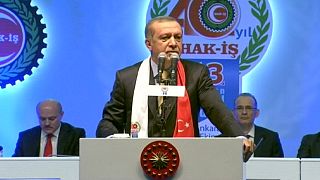 The Turkish President says he now believes the Syrian secret police or Mukhabarat along with ISIL and Kurdish militants all played a role the recent suicide bombings in the centre of Ankara.
Speaking at a trade union congress, Recep Tayyip Erdogan says it was a collective terrorist attack:
"This attack illustrates terrorism is a collective act," he said. "Daesh, the PKK and Mukhabarat are all involved in this. The Democratic Union Party in northern Syria is also involved in this. They have planned this attack together."
#Syrian intelligence, #ISIL, #PKK behind #Ankara attack: #Erdoğan
https://t.co/cQHGt4qcCdpic.twitter.com/Istv7yw6bZ

— Yeni Şafak English (@yenisafakEN) October 22, 2015
Ankara bombing 'collective terrorist act': #Turkey's Erdogan https://t.co/a7FGcLrQGKpic.twitter.com/EwzYGokWUO

— ST Foreign Desk (@STForeignDesk) October 22, 2015
Many arrested in connection with Ankara attacks
Many arrests have been made in connection with the bomb attacks, described as the deadliest in Turkish history.
A fresh wave of migration from Syria?
Erdogan also said there are strong indications that a fresh wave of migration has begun, following an increase in attacks on the Syrian city of Aleppo.
He repeated his calls to train and equip more Syrian rebels and to set up a safe zone to protect displaced civilians.
"If this is done, I believe the migration from Syria will stop and the refugees that we are hosting will also be able to go back," he said, referring to the more than two million Syrian refugees sheltering in Turkey.
However, the plan for a "safe zone" has failed to find support from Western allies.
Turkey's Erdogan sees signs of new wave of migrants from Syria's Aleppo https://t.co/IoMvwZblFW

— Reuters World (@ReutersWorld) October 22, 2015
At least 102 people died and more than 400 were injured in the attacks on a peace rally in the centre of Ankara on October 10th.
It happened three weeks before the Turkish general election, scheduled for the 1st of November.
What are the political implications of the Ankara attacks?
What the Ankara bombing means for Turkish politics and the West: http://t.co/FbtuJ3qM6Dpic.twitter.com/oYAJmyIDCM

— Brookings FP (@BrookingsFP) October 16, 2015