Netanyahu blames Palestinian Territories for failing to stop violence in Middle East
Comments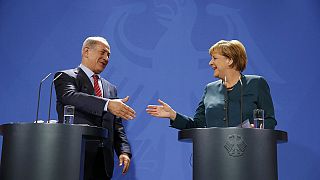 German Chancellor Angela Merkel and Israeli Prime Minister Benjamin Netanyahu have held talks in Berlin to mark 50 years of diplomatic relations between the two nations.
Netanyahu raised the spiralling violence in the Middle East. He thanked Germany for its support and criticised the Palestinian Authorities for, in his words, "refusing to condemn" the near-daily attacks in the region.
The violence has been blamed on fears Israel will change the status quo at the Temple Mount holy site. Netanyahu said no changes would be made at the compound and called for an end to terror in the Middle East.
Merkel said talks would continue later today (October 21), with the conflict in the Middle East, Syria and Iran on the agenda.