Mideast: the personal and the political
Comments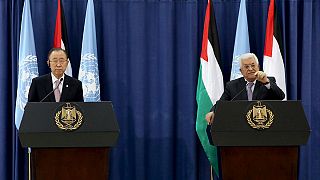 Thousands of people have attended the funeral of a 24-year-old Palestinian shot dead in the West Bank.
Odai Masalma was killed after he attacked an Israeli soldier with a knife in Beit Awwa.
"UN Secretary General "deeply concerned"
Ban Ki-moon arrives in Israel, beginning two-day visit in region to "help defuse tensions" https://t.co/weh7FeY6xApic.twitter.com/Aka1XqS9h7

— United Nations (@UN) October 20, 2015
The Secretary General of the United Nations says he is "deeply concerned" about the wave of violence sweeping over the West Bank.
Speaking at a news conference alongside Palestinian President Mahmoud Abbas in Ramallah, Ban Ki-moon called on both sides to address the escalating tensions.
Prime Minister Benjamin Netanyahu's remarks before departing on a state visit to to Berlin
https://t.co/QRaTQMY6Cepic.twitter.com/UUn1fqGKQ5

— PM of Israel (@IsraeliPM) October 21, 2015
Leaving on an offiicial visit to Berlin, Israeli Prime Minister Benjamin Netanyahu called on Mahoud Abbas to end the "incitement which is the cause of multiple attacks".
How many people have died?
Over the past month, 10 Israelis have been killed in attacks by Palestinians, the majority of them stabbings.
During the same period, 46 Palestinians have been killed by Israeli fire, including 25 identified by Israel as attackers. The rest died in clashes with Israeli troops.
Video: Israel police launch probe into 'lynching' of Eritrean man. https://t.co/DT2l3mUKIV#ThirdIntifada#Palestinepic.twitter.com/naWxKNeb6B

— Middle East Monitor (@MiddleEastMnt) October 20, 2015
An Eritrean farm worker died after being shot by a security guard and beaten by a mob that mistakenly believed he was a Palestinian assailant during an Arab attack at a bus station.