Merkel calls for calm in Middle East; Netanyahu blames unrest on Palestinians
Comments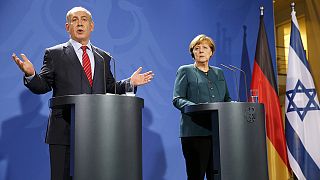 German Chancellor Angela Merkel urged Israelis and Palestinians to calm the situation in the Middle East following a month of escalating violence in the region.
Israeli Prime Minister Benjamin Netanyahu was in Berlin for talks with Merkel.
Earlier in the day, he had come under fire for suggesting revered former Palestinian leader Haj Amin al-Husseini, the Mufti of Jerusalem, had convinced Adolf Hitler to exterminate European Jews from the 1920s to 40s.
Merkel was asked to comment on this.
"I can say that we know who was responsible," she said. "We do not see any reason to change our view of history on this particular question. We stand by German responsibility for the Holocaust."
Merkel labelled the Jewish state's settlement expansion "counterproductive."
Netanyahu called on the international community to urge the Palestinian authorities to stop the violence in the region.
"Israel wants peace. I want peace, a peace founded on mutual recognition, iron-clad security arrangements in which Israel could defend itself by itself."
As the talks went on, around a hundred people gathered outside the Chancellor's office to protest against Netanyahu's visit.
He is due to leave Germany on Thursday (October 22), following a meeting with US Secretary of State, John Kerry.