Pomp, ceremony and big business as Chinese president visits UK
Comments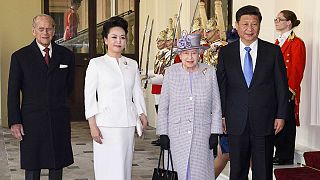 The President of the People's Republic of China Xi Jinping has received a royal welcome at the start of his four-day state visit to the United Kingdom.
Queen & Prince Charles welcome President of China to UK for State Visit https://t.co/Zcyg5SrHABpic.twitter.com/UajDZmmhEP

— The Crown Chronicles (@crownchronicles) October 20, 2015
China's President Xi Jinping welcomed by Queen with royal procession - highlights https://t.co/Fbpm0hegOvpic.twitter.com/Jf5aMQKJfh

— Telegraph News (@TelegraphNews) October 20, 2015
The Queen and the Duke of Edinburgh will host the Chinese President and his wife before visits to Chequers, the retreat of the Prime Minister, and Manchester.
Leaders of China and UK to meet at Chequers http://t.co/OPac3m15fkpic.twitter.com/jJuMS0T9BO

— China.org.cn (@chinaorgcn) October 14, 2015
Chinese leader to dine at Manchester City's Etihad Stadium with British PM Cameron next week. http://t.co/9l8xMq7j0apic.twitter.com/z1upYtdfK9

— SCMP News (@SCMP_News) October 17, 2015
It is not all pomp and ceremony Mr Jinping is here on business with €40bn worth of trade and investment deals on the table.
British Foreign Secretary Phillip Hammond sees it as essential to pursue good relations with Beijing:
"We see an economy that will be evolving in the next phase of its growth to need more of the things that Britain is really good at, as it moves to being a service economy, as it moves to emphasising consumption over investment in China. Britain's businesses will really come into their own and my ambition is to see Britain as China's biggest trade partner in Europe."
The new cosy Sino-British relationship has caused concern in Washington as China continues to invest heavily across the globe.