British government under fire from human rights activists over Chinese president visit
Comments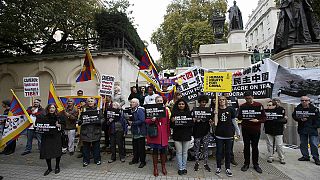 Protests against the Chinese President's visit to the UK have so far been small, but vocal.
Those turning out to chant and wave banners in London accuse the British government of turning a blind eye to rights abuses.
The few dozen demonstrators have been outnumbered by thousands of China supporters and they were kept from the centre-piece procession.
Xi Jinping's visit is set to seal billions of euros in deals. But opposition politicians are joining activists in saying that it should not be at the cost of human rights.
"This is not a country that we should be allowing to get away with the kind of human rights abuse that our government seems so eager to ignore in the name of economic growth," said Fabian Hamilton, Labour MP and Chair of the All Parliamentary Group on Tibet.
Britain has won praise from China for its discretion in dealing with human rights issues, by raising them behind the scenes. But critics say it should be done publicly.
"I think it is deeply disturbing that the British government appears to be saying this week that it just wants to talk about trade and it just wants to talk about investment," said David Mepham, UK Director of Human Rights Watch, "and moral issues and human rights concerns and solidarity with the people suffering at the hands of the Chinese state is shunted to one side."
The spotlight has been turned on human rights in China with cases such as that of dissident Liu Xiaobo.
The Nobel Peace laureate, involved in the 1989 Tiananmen Square pro-democracy protests, was jailed for 11 years in 2009 on subversion charges.
US advocacy group Freedom Now has published a letter signed by twelve Nobel Peace Prize winners. It calls on British Prime Minister David Cameron to press publicly for the release of Liu.
There has also been criticism of Britain's welcome for the Chinese President from an exiled leader of the Uighur community.
Rebiya Kadeer says the red carpet is tainted by the blood of minorities. Beijing dismisses the comments as "absurd."
The region of Xinjiang in China's far west, home to the Uighur population, and Tibet, are focuses of concern for activists.
It is claimed that in these areas, ethnic discrimination, religious repression and cultural suppression are justified by Beijing – in the name of the fight against separatism and terrorism.