German anti-immigrants Pegida mark first year of existence with Dresden rally
Comments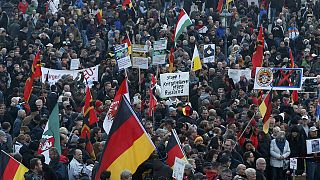 Round about this time last year the anti-immigrant Pegida movement took off in Dresden, and it celebrated the fact on Monday with a rally they claimed thousands attended.
They carried placards praising Hungary's Viktor Orban, and slogans like "We are citizens, not slaves", and cheered their leader, Lutz Bachmann.
Some carried pictures taunting German Chancellor Angela Mekel, captioned the "Queen of Traffickers", or "Mother Terrorista", but they did not have it all their own way.
The rally was met with a counter-demonstration, much the same size say police, of people angry that Dresden is being seen more and more as a far-right haven.
Pegida peaked at the end of 2014 before declining, but has risen again with the refugee crisis.
"They paint Dresden as a nazi city around the world. It's outrageous. We should have protested against this much earlier and in large numbers," said one woman.
By nightfall the competing rallies had got uncomfortably close, only separated by the police, but the atmosphere was mostly calm, with only one person slightly hurt after scuffles broke out.